Gamma Tile
Surgically targeted radiation therapy for patients with operable brain tumors
GammaTile Therapy is a safe and effective Surgically Targeted Radiation Therapy (STaRT) for operable brain tumors that begins working immediately at the time of brain tumor removal
GammaTile Therapy targets tumor cells while preserving brain tissue. Surgically guided treatment of the local radiation dose to the operative bed optimizes the therapeutic margin while minimizing complications.
Structural offset of the radiation source from the brain tissue prevents harmful direct seed-to-tissue contact and enables intraoperative adjustment.
Enables immediate treatment at resection with no additional hospital stay
Integrates into the surgical workflow for procedural ease and speed
Takes approximately 6 minutes to complete tile placement
Simplifies care with 100% "built-in" compliance and no special inpatient precautions or contraindications with systemic therapies
Request a demo, quote or ask a question.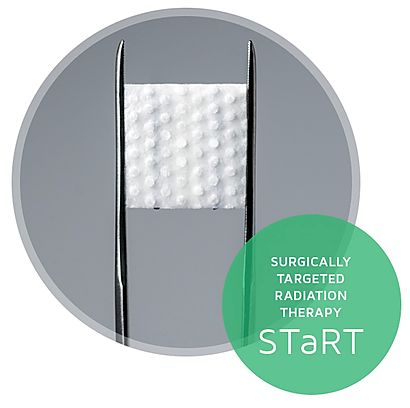 Right Treatment. Right Time. Right Place.
GammaTile Therapy is a Surgically Targeted Radiation Therapy (STaRT) that provides immediate, dose-intense treatment at the completion of resection. By getting a head STaRT on fighting the tumor, resection plus GammaTile Therapy can extend local recurrence-free survival with minimal complications, reduced patient burden, and assured compliance.
Request a demo, quote or ask a question.